What Is Hybrid Learning And Can It Help L&D Adapt?
The Workplace Has Changed And Traditional Training Needs To Adapt
While the pandemic has mostly subsided, the realities of hybrid work – and therefore hybrid learning – are here to stay. A Microsoft survey found that hybrid work will continue to be a reality, with 53% of employees considering transitioning and 38% of companies embracing the approach. This new normal creates a challenge for corporate leaders to find the right L&D balance for their organization.
So, how can L&D leaders adopt a hybrid learning strategy that brings together the best of both worlds? Not just for remote workers, but also for in-person team members who can benefit from the ease and flexibility of e-learning as a complement to on-site training. All signs suggest that it will involve embracing a hybrid strategy. Whether that's leveling-up their current eLearning approach, or adopting a new one, our eBook provides a roadmap for leaders entering this new reality.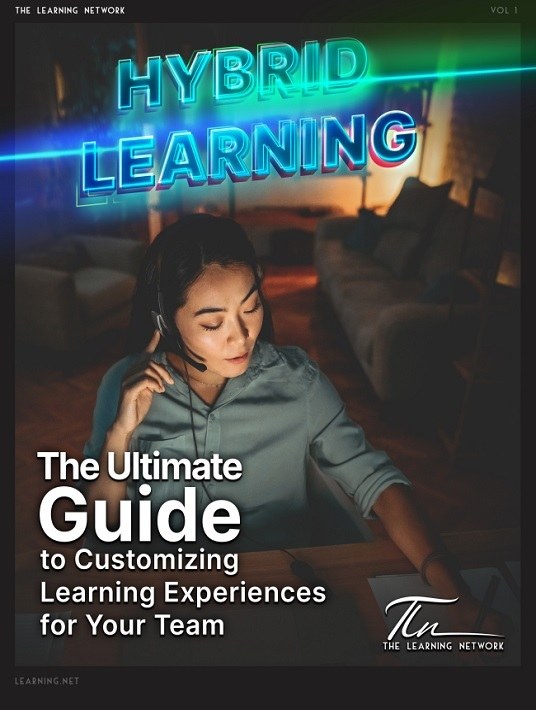 eBook Release
Hybrid Learning: The Ultimate Guide To Customizing Learning Experiences For Your Team
Whether that's leveling up your current eLearning approach or adopting a new one, this eBook will provide a roadmap for customizing learning experiences for every member of your team.
What Is Hybrid Learning?
Hybrid learning is an approach to learning that incorporates elements of both traditional, in-person methods (like classroom-based, and instructor-led) as well as remote methods such as online courses/ platforms, videos, virtual reality, augmented reality, and more).
Switching Gears To Embrace Hybrid Learning
The speed and suddenness behind the transition to remote and hybrid work models has been unprecedented. It has left many companies struggling to keep up – while many early adopters excelled. What the pandemic did provide was a real-world laboratory to study the effectiveness of a hybrid learning model. What we learned is that effective remote learning is not only possible but has been beneficial when combined with traditional, in-person approaches – or when multiple, distinct digital tools are utilized.
A Cisco study found that 83% of hybrid workers have been able to "learn, grow, and succeed in their roles over the past two years." Not only that, but 59% of the same group experienced greater levels of self-improvement in job knowledge and skills than before.
Where Is In-Person Training Still A Logical Fit?
Before you can formulate a hybrid learning strategy, you need to understand and assess the strengths and benefits of traditional training… and how it aligns with your operations. After all, training team members in a traditional classroom setting is still a tried-and-true approach.
Pros
Trainer/learner relationships foster learning.
Hands-on examples and demonstrations provide concrete knowledge.
Trainers can answer questions face-to-face with opportunities for follow-up.
Course materials and training programs are already in place.
Cons
Having set hours and learning times can limit flexibility.
Learners may have to be pulled away from work for hours or days at a time.
May involve expenses to fly-in and accommodate remote workers.
Younger workers often prefer flexible, technology-based options.
Passive listening from students can lead to poorer outcomes with knowledge retention.
Conclusion
Stay tuned for more considerations that every organization should keep in mind when choosing a hybrid training model. You can also download the eBook Hybrid Learning: The Ultimate Guide To Customizing Learning Experiences For Your Team by The Learning Network to discover how you can launch personalized hybrid learning programs for your remote workforce.