How To Use Them + Examples for Every Subject
Some students have no trouble expressing their thoughts, whether verbally or in writing. Others, though, need some help to get started. Sentence stems—sometimes called sentence starters, sentence frames, or thinking stems—help them do just that. Here's how they work.
How To Use Sentence Stems
Provide all students with a list of sentence stems they can use during discussions or when they're writing. For fluent writers or speakers, these stems may not be necessary, but they're always helpful to have on hand. You can give kids a handout, or post an anchor chart for them to refer back to.
Be sure to model them for kids, showing how to fill in the blanks. Practice both out loud and in writing, providing your own example and then asking for their take. It's OK if they simply fill in the blanks when they first start using these stems. But over time, students should use them more as a jumping-off point, to delve deeper into the topic.
Tip: Don't require sentence stems if students don't need them. Some kids will do just fine having a discussion on their own, or getting started on a writing assignment. But encourage others to use them as much as they need to. Eventually, these stems will become automatic, giving students tools to help them become better communicators.
Language Arts Sentence Stems
The author used this technique because …
The narrator is reliable/unreliable because …
Characters in this story started out … but changed to …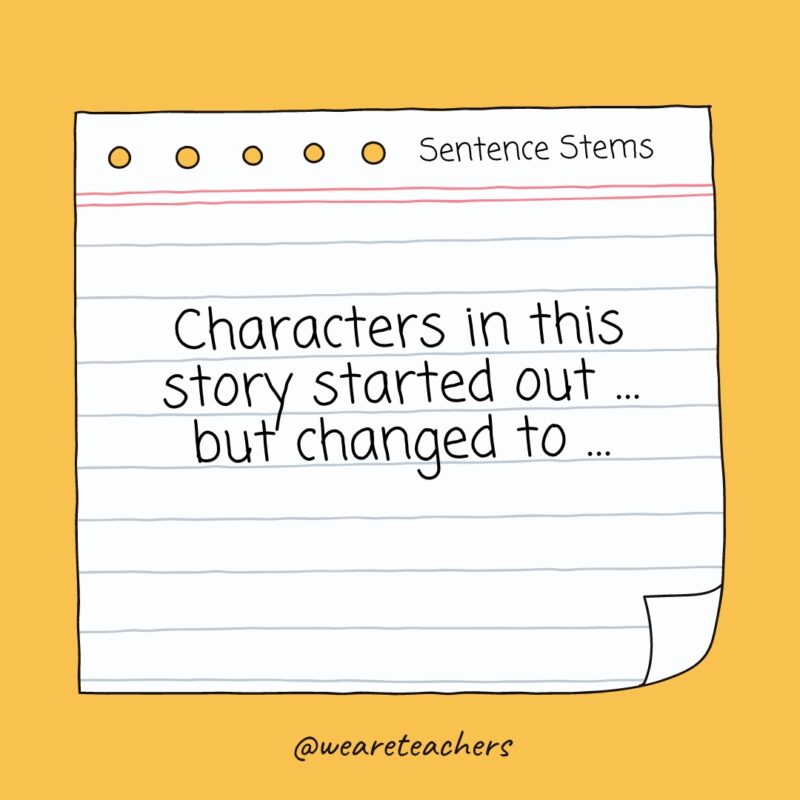 The theme of this story is … which is shown by …
This story reminds me of …
If could change the end of this story, I would …
I liked/disliked this character because …
This story made me feel … when …
[Character] and [character] are alike/different because …
My favorite part was …
The author wants us to believe …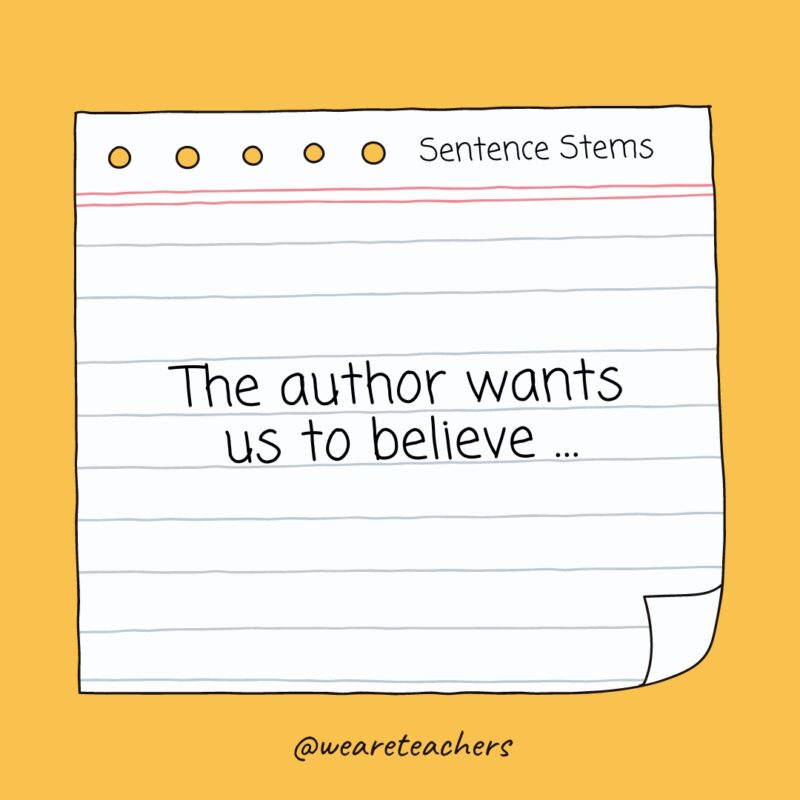 Based on this text …
The author proves their point by saying …
I didn't understand why …
When I read … what I pictured in my head was …
Social Studies Sentence Stems
These events are alike/different because …
If this happened today …
If I lived then, I would have …
This happened because …
The effects of this were …
I agree/disagree with … because …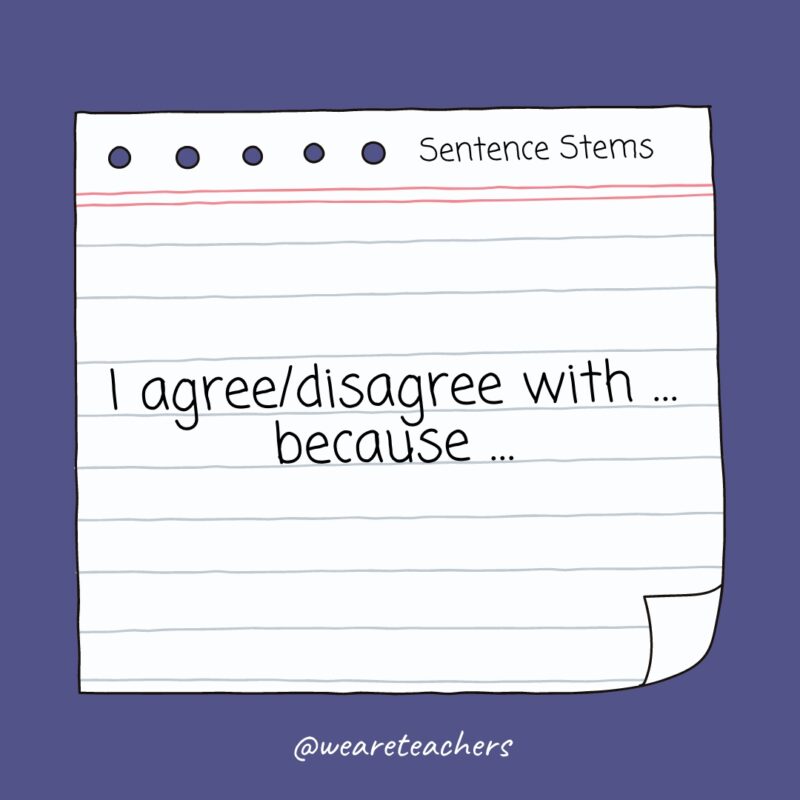 I was surprised to learn …
I don't understand why …
History repeated itself when …
I feel inspired by …
 Science Sentence Stems
The data shows …
This experiment proved … because …
I believe … will happen because …
I expect to see …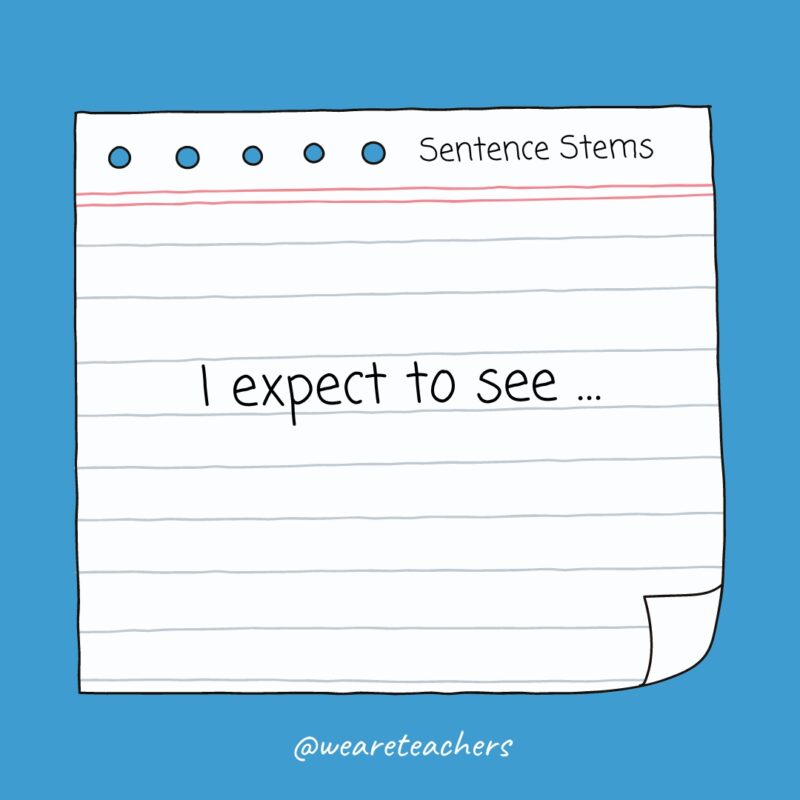 The cause of this is …
The effect of this is …
I was surprised when …
We can find out by …
We could change the outcome by …
I discovered …
The pattern I observed was …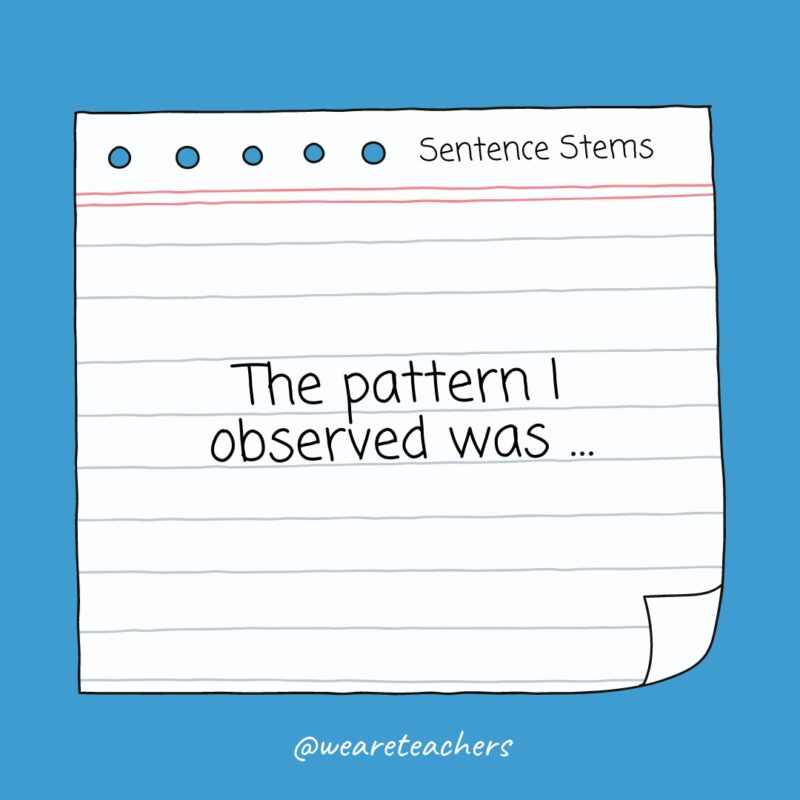 My results show …
I predict … because …
The experiment was a success/failure because …
What if …
Math Sentence Stems
To solve this problem, I need to …
The important information is …
I can check my work by …
Another way to solve this problem is …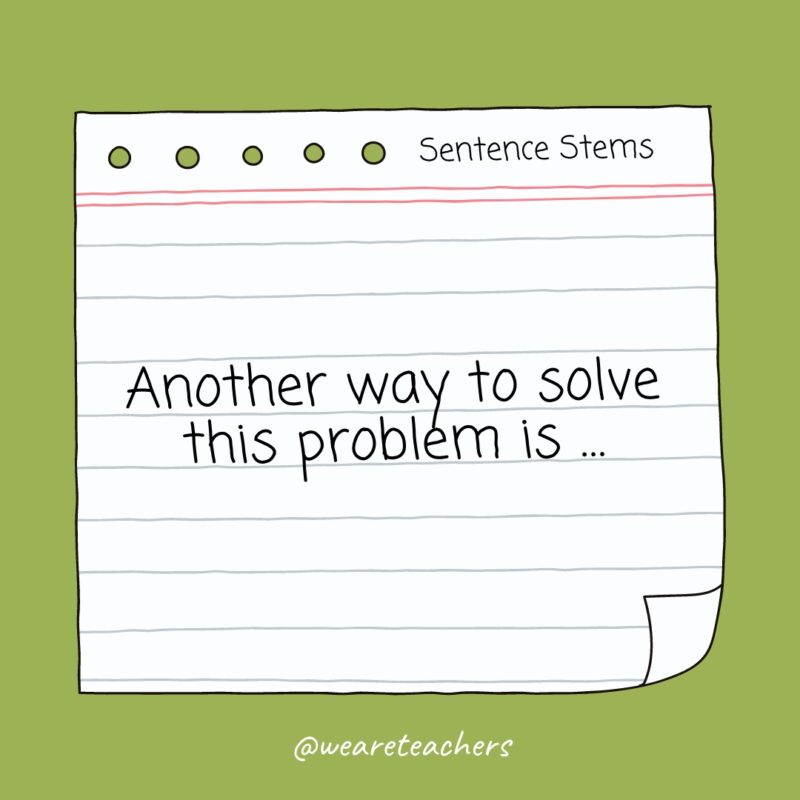 First I … Then I … Finally I …
I found the answer by …
This problem reminded me of …
I can use this skill in real life when …
I got the wrong answer because …
This solution makes/doesn't make sense because …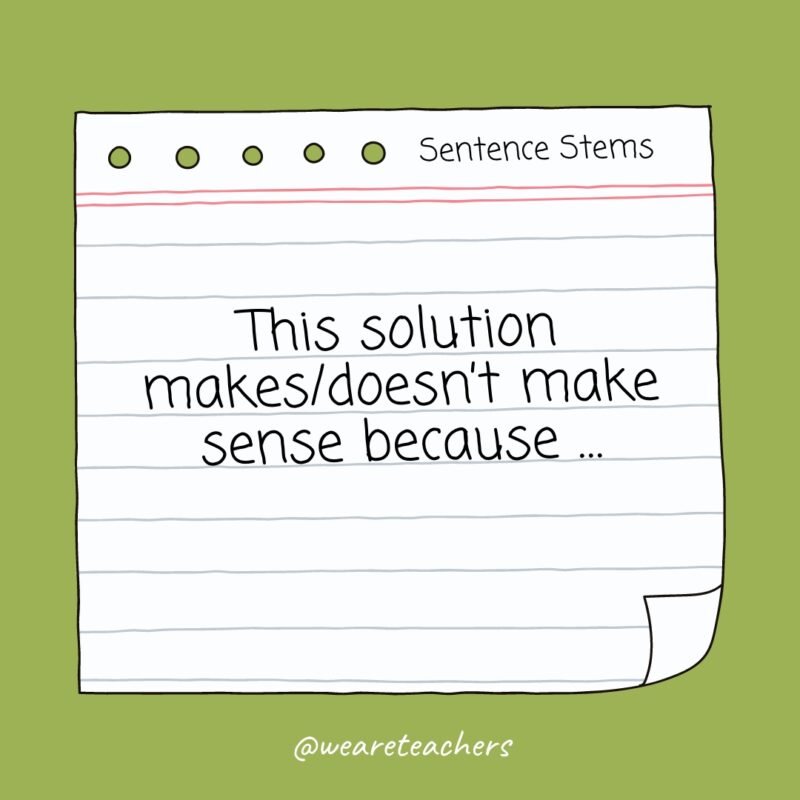 Discussion Sentence Stems
When you said … I felt …
I used to think … Now I think …
I feel … when …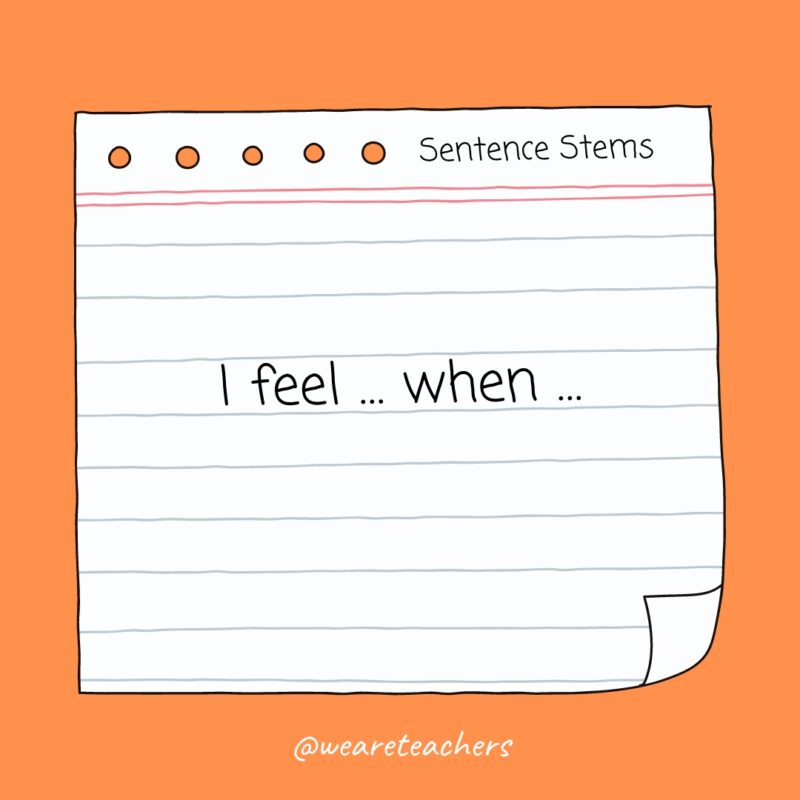 We are alike/different because …
I respect your opinion, but I disagree because …
From my point of view …
What I'm hearing you say is …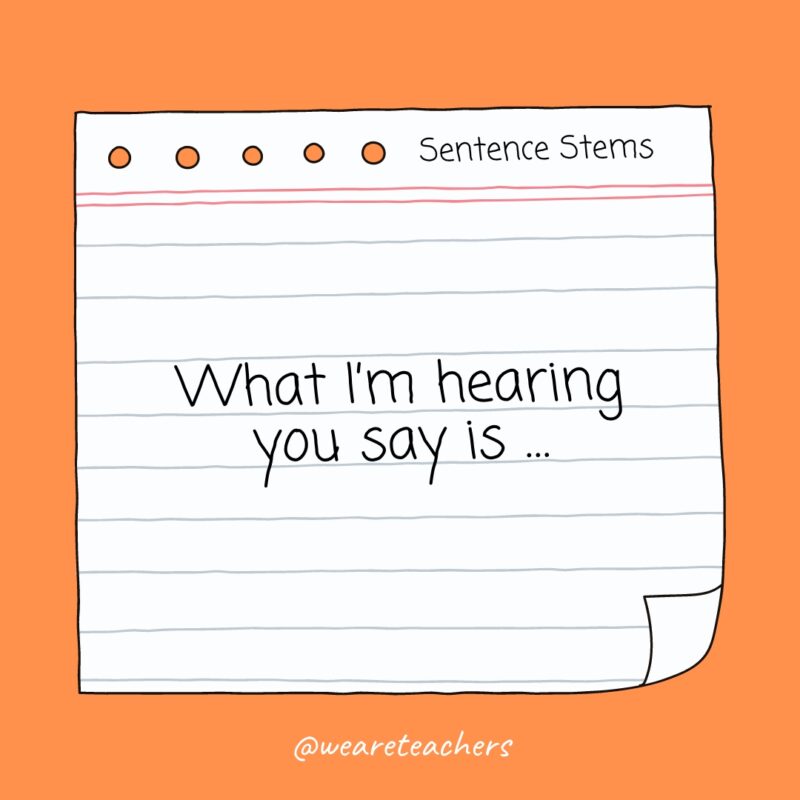 If that happened to me, I would …
What if we …
I need some help with …
How do you use sentence stems? Come share your thoughts and ask for advice in the WeAreTeachers HELPLINE group on Facebook.